---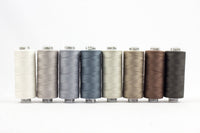 100% cotton quilting and sewing thread is now available in half size (500m, 547yd) spools and come in these cute and colourful packages! With 5 collections to choose from, colours are selected to suit multiple purposes from neutrals to pastels.
 
Konfetti™ packs are great to pick up for those who want to start their WonderFil™ thread collection as every pack comes with a cut-out hints and tips card you can keep in your sewing room, so you always have our recommended needle sizes and other guidelines on hand. They also make fantastic gifts for your sewing enthusiast friends!

Sand and Sea Glass Pack contains:
KT101 Soft White

KT905 Sterling Grey

KT902 Medium Grey

KT904 Blue Grey

KT903 Very Light Grey

KT804 Brown/Grey


KT803 Dark Brown and

KT201 Soft Black

 
Available in 5 colour collections, 8 colours per pack.