---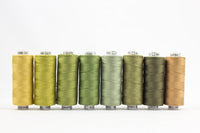 100% cotton quilting and sewing thread is now available in half size (500m, 547yd) spools and come in these cute and colourful packages! With 5 collections to choose from, colours are selected to suit multiple purposes from neutrals to pastels.
 
Konfetti™ packs are great to pick up for those who want to start their WonderFil™ thread collection as every pack comes with a cut-out hints and tips card you can keep in your sewing room, so you always have our recommended needle sizes and other guidelines on hand. They also make fantastic gifts for your sewing enthusiast friends!

Forest Floor Pack contains:
KT400 Gold

KT611 Brass Green

KT612 Olive Green

KT708 Dark Olive

KT613 Grey Khaki

KT703 Avocado Green


KT707 Pine Green and

KT810 Warm Brown

 
Available in 5 colour collections, 8 colours per pack.