---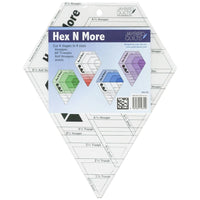 The Hex N More Ruler is that it can cut 4 shapes in 4 sizes - Hexagons, 60 Degree Triangle, Half Hexagons & Jewels, a total of 16 pieces.
Includes full colour instructions
12 1/2" high x 10" wide
Cuts 4 shapes in 4 sizes
Patterns available
Used in many of the Jaybird Quilt patterns or for your own patterns, this ruler ensures accurate cutting and piecing and is a joy to use.  It pairs with the Super Sidekick Ruler really well too.