---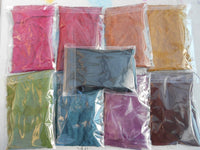 Hessian provides an amazing depth of texture and is terrific both as a strong background or in small parts as features.  It can be hand or machine stitched.  Edges will fray if left untreated (which might be perfect).  To prevent fraying zigzag stitch or overlock. Alternatively use a fray stopper or other bonding agent.
Shrinkage has already occurred during the dyeing process, so these will not shrink.  They are completely machine washable and can be added to a broad range of projects. 
Fat Quarter pieces are about 50 by 55 cms.