---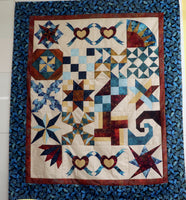 Start at the very beginning and learn a broad range of patchwork skills.  This course is a very comprehensive skills builder.  It starts with basic rotary cutting and machine piecing and will extend the participants skills gradually.  In addition to simple piecing, included in the blocks will be foundation piecing, templates and curves.  Each step will build the repertoire in a stress-free and supported class.  There will be homework each week to maximise the time in class.  Materials list is available in store and online.  Full pattern will be provided.
10.00 to 1.00 Saturdays
11th Feb, 25th Feb, 11th Mar, 25 Mar, 15th Apr, 22nd Apr, 6th May, 20th May, 3rd Jun, 17th Jun, 1st Jul.
Material Requirements