---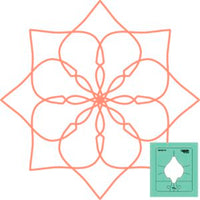 Sale
Get the newly released Westalee Design Bloom Template and Stable Tape.  This exclusive design can be found at our Westalee Design Resellers World Wide.  Click here to Find Your Location.
The Bloom Design is one of hundreds  of our spinning designs.  Create segmented circular motifs, through a stitch-then-advance process. Spin-e-Fex create their unique shapes by stitching around the perimeter of a simple template shape, advancing the template location, then stitch and repeat. Once all advances have been stitched, a beautifully intricate design is revealed!  Create beautiful mandalas and flower inspired designs, with varies shapes and sizes get yours today and see what other design possibilities you come up with.
This template can also be purchased in the two packages below:
Reseller Exclusive Ruler Work Kit
Reseller Exclusive Ruler Foot Package
 You must include the make and model of your sewing machine in the special instructions at the checkout so that we are sure we will send you the correct foot and template.